Ch. "Faithful" fdbm' of Amiel-Neb – (Nebelung – 'Female')
" Faithful" du fort de la bosse marniere
(of Amiel-Neb)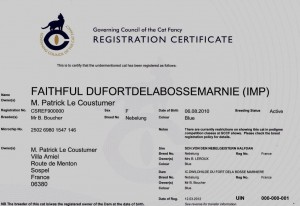 GCCF=(CSEXP811818),TICA =(SBT= 080610 054) LOOF250269801547146 (Born/née = 06.08.2010)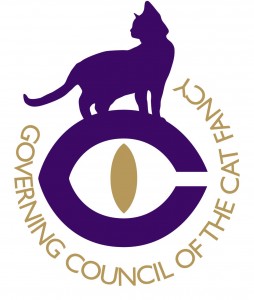 female on the GCCF active registrar
Felv/Fiv tested 'negative'
– (6/10 months) excel 1, "Best Opposit Sex" Monaco 29.01.2011
– (6/10 months) excel 1 " Best Variety" Monaco 30.01.2011
-16.04.2011 St Laurent du Var (6/10 months) 1st excel
– 17.04.2011 St Laurent du Var (6/10 months) 1st excel nominé "Best in show"
– 11.02.2012 CAC Monaco
– 12.02.2012 CAC Excel 1Monaco
– 17.03.2012 CAC St Raphaël
– Champion Loof 17.03.2012
– 18.03.2012  CACIB St Raphaël
-18.03.2012 "Best Varieté" St Raphaël & "Nominé Best in Show"
Faithful (also known as Baby Squirrel) comes from very rich ancestries Us, as well as Russian and EU!
on her father's side =
Ch. Halfdan Von Den Nebelgiestern (GER), Andvari Von Den Nebelgeistern (CU) & Ciastek the Grey (PL) on 2nd generation ;  then Paradigm's Azzillo (US) on 3d generation & Juno Sereb Haze (NL) and on 4th generation we have Paradigm's Batman of Bluemist (US) and also Archangelskaja's Colja-Javik (USSR)!
((( Faithful's Ancestors in pictures)))
on her mother's side=
Dwihilde du fort de la bosse marniere (Fr), Ciastek the Grey (POL), 3d generation we have Bonny (USSR) and IC Aleksandr van sond de Chine (NL) on 4th generation  ,CH. Arnold (USSR), Archangelskaja's Colja-Jarvik (USSR) and Nebelheim Maximillian (US)