IC. Maunarch "Florina" of Amiel-Goshen – (Egyptian Mau BRONZE – 'Female')
IC.Maunarch Florina of Amiel-Goshen
(פלורינה)
(Baby Flo)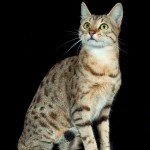 CFA = (0845-1701729), GCCF= (CS 783754) TICA (SBT 031310 054) LOOF= (2011CE.425)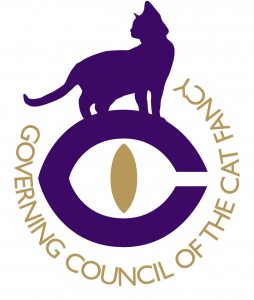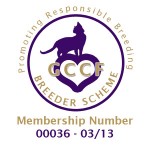 (female on the GCCF active registrar)
(female "reproducteur Sélectionnée" LOOF standard)
(PKdef tested, Felv/Fiv tested 'negative')
(Born/née = 13.03.2010)
  –  6/10months) 1st excel –  Grasse 16.10.2010 –  6/10months) 1st excel – Grasse 16.10.2010 – CAC 1st excel –  Monaco 29.01.2011 – CAC 1st excel – Monaco 30.01.2011
–2nd price "trophee Bastet" Special Mau – Monaco 30.01.2011 – 2nd price "EMC uk Special Award"(GCCF)–  Monaco 29.01.2011
– CAC 1st excel St Raphaël 19.03.2011 (nominé "best in show") – CACIB St Raphaël 20.03.2011  "Best Variété"– Champion LOOf Standard on the 19.03.2011 – CACIB 1st Excel St Laurent du Var 16.04.2011 (Nominé "best in show")-CACIB St Laurent du Var 17.04.2011, 1st Excel – International Champion LOOF Standard on the 17.04.2011   06.10.2012 Special Egyptian Mau UK (GCCF standard)2nd Egyptian Mau AD (class 6), 3d A.C adult (class 16), 1st A.C N/B AD (class 20), 2nd Senior AD (class 27), 11 & 12.09.2013 was at the France CFA Fancier Show in Rouen. She had 7 1st place, 6 2nd best of breed, 2 2nd best colors class, 3 2nd place, 2 third place, & 7 best of Colour Class
12.09.2013 CFA Champion.
13.12.2014 1st CAGCI at Charenton Paris XIIeme, 14.12.2014 2nd CAGCI ex1 at Charenton Paris XIIeme she was """9th a the Egyptian Mau Speciale CHARENTON 2014″"" (30 EM all colours present)

13.03.2016 3d GAGCI ex1 at Lisieux  & Nominée best of Breed
""Maunarch Florina of Amiel-Goshen is now CHAMPION CFA"" Florina (known as Baby Flo) came to us from US and is from exceptional lineage -On her father's side = GC.BW.RW. Ramah Mau-Tan Man (bronze), son of GC.Brockhaven Lucky Strike (bronze), & GC. Sharbees Mauria Tu of Ramah DM (bronze) – On her Mother's side = CH.Sharbees Papyrus Maukarramma (bronze), daughter of Sharbees Siri Sapphire (bronze) & Sharbees Tezlin Topaz (bronze) She has quite a few CH and GC in her lineage like GC. Phiset Ed Mcmau of Brockhaven, GC. Sharbees Irish Coffee, GC. Sharbees Coffee Mocha etc..