Archive for 'chatons'
mardi, octobre 6th, 2015 at 1:10
We have the pleasure to announce, that
IC « Maunarch Forina of Amiel-Goshen » & Triple Champion « Hotep de la Grande Pyramide »
Had a beautiful kitten called
« Amiel-Goshen Lheka »
 After a few trial and error, Hotep passed the test with success, Hotep de la Grande Pyramid, therefore is a confirmed Tom/studHotep is a very Gentle Tom and a real gentleman with his ladies
Nous avons le plaisir de vous annoncer que
IC Maunarch Forina of Amiel-Goshen & Triple Champion Hotep de la Grande Pyramide,
ont eu un merveilleux petit chaton nommé.
« Amiel-Goshen Lheka ».
Après quelques essais, Hotep a passé le test avec succès ; ainsi Hotep de la Grande Pyramide  est donc un mâle reproducteur confirmé , une très bonne nouvelle pour le bronze. A noter qu'Hotep est un mâle très doux et respectueux avec les demoiselles. »
jeudi, mai 15th, 2014 at 3:52
Our Baby Boy// Notre Petit Mâle 
Amiel-Goshen « Jessé » at Twilight
Is changing fast///change rapidement
mardi, mai 6th, 2014 at 10:24
—-Amiel-Goshen Jessé—-
 is changing really fast here some of the latest pictures///
Change très rapidement, voix les dernière photos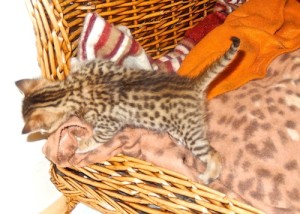 mercredi, avril 9th, 2014 at 10:50
   Amiel-Goshen « Jessé » 
is now 3 weeks old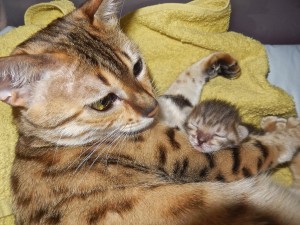 to follow this litter please tap
dimanche, septembre 22nd, 2013 at 2:28
samedi, septembre 7th, 2013 at 1:28
 – all our Egyptian Mau Have been tested for the PKdef ( pyruvate kinase. deficiency ).
and all kittens born are certified PKDef 'Clean'
– tous nos Mau Egyptien ont été testés pour le PKdef (déficience en pyruvate kinase.).
et tous nos chatons sont certifiés PKdef 'clean'/'normal'
mardi, août 20th, 2013 at 1:17
  More pictures of this wonderful litter from Maunarch Florina & Chantina Jacob
here « Amiel-Goshen » – Ilana, Isabella & Independence indi-
Plus de photos de cette très belle portée de bronze de Maunarch Florina & Chantina Jacob
« Amiel-Goshen » – Ilana, Isabella & Independence indi-