facebook Archives
samedi, octobre 17th, 2015 at 4:41
Our beautiful
« Amiel-Goshen Lheka »
is doing very well as you can see
she is the daughter of
IC « Maunarch Forina of Amiel-Goshen » & Triple Champion « Hotep de la Grande Pyramide »
you can follow her on =
mardi, octobre 6th, 2015 at 1:10
We have the pleasure to announce, that
IC « Maunarch Forina of Amiel-Goshen » & Triple Champion « Hotep de la Grande Pyramide »
Had a beautiful kitten called
« Amiel-Goshen Lheka »
 After a few trial and error, Hotep passed the test with success, Hotep de la Grande Pyramid, therefore is a confirmed Tom/studHotep is a very Gentle Tom and a real gentleman with his ladies
Nous avons le plaisir de vous annoncer que
IC Maunarch Forina of Amiel-Goshen & Triple Champion Hotep de la Grande Pyramide,
ont eu un merveilleux petit chaton nommé.
« Amiel-Goshen Lheka ».
Après quelques essais, Hotep a passé le test avec succès ; ainsi Hotep de la Grande Pyramide  est donc un mâle reproducteur confirmé , une très bonne nouvelle pour le bronze. A noter qu'Hotep est un mâle très doux et respectueux avec les demoiselles. »
mercredi, septembre 3rd, 2014 at 1:03
the Egyptian Mau and Nebelung of
« Monacocattery » can be seen on Google images
Les Mau Egyptien et Nebelung de
« Monacocattery » peuvent être vue sur Google images
jeudi, mai 8th, 2014 at 11:26
» Chatterie Amiel-Goshen Cattery »
 soutient à 100% ce processus pour le bien dents chats et leur sécurités
Le service du bien-être animal nous donne les avantages de la castration ou de la stérilisation.
 Pour les mâles : …
– le rend plus calme et sécurise la vie des chats du quartier.
– reste énergique et devient même plus social et affectueux.
– cesse de délimiter son territoire en urinant partout.
 Pour les femelles : …
– n'est plus en chaleur.
– court moins de risques de développer des tumeurs aux mamelles.
– plus calme et plus sociale, moins agressive.
ou lisez se
« New Generation Informations »
mercredi, avril 9th, 2014 at 10:50
   Amiel-Goshen « Jessé » 
is now 3 weeks old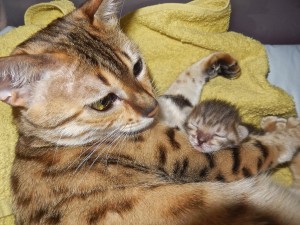 to follow this litter please tap
lundi, mars 31st, 2014 at 11:40
 Chatterie Amiel-Goshen Cattery
–a le plaisir d'annoncer la naissance
–has the pleasure to announce the birth of
« Amiel-Goshen Jessé »
DE//from
« Amiel-Goshen Yosefa » & « Maus'Art Atarah «
A new bronze line///Une nouvelle lignée de bronze
plus d'information ICI//Here for more info
lundi, mars 10th, 2014 at 6:23
lundi, septembre 9th, 2013 at 3:30
visitez cette page, vous trouverez toutes informations sur le « PKdef »
dans le monde félin et ce qui peut être fait pour le combattre